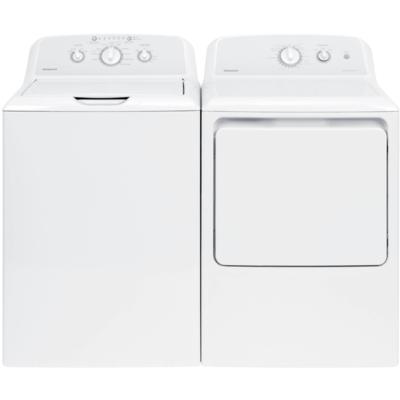 Overview
YourHotpoint washer is equipped with 11 wash cycles that are designed to specifically handle various fabrics and soils. Bleach and fabric softener dispensers automatically operate with wash cycle. When selected, the deep rinse cycle ensure clothes are rinsed of soap residue and fabric softener. Your Hotpoint dryer has 3 heat selections that offer a choice of drying temperatures for personalized fabric care. Auto Dry for clothes that come out feeling and looking great, this setting monitors air temperature to set the optimal drying time. Aluminized alloy drum improves energy efficiency and resists corrosion.
Hotpoint White 3.8 cu ft Washer/6.2 cu ft Dryer
SKU: HTW240ASKWS/HTX24EASKWS

Fast, Free Delivery
Buy It Now: $1249.99
Term: 24 Months | Monthly Rate: $89.99 | Total RTO* with Monthly Agreement: $2159.76
Term: 104 Weeks | Weekly Rate: $21.99 | Total RTO* with Weekly Agreement: $2286.96
$25 gets you started and the remainder of the 1st month will be owed before merchandise is delivered. Any type of promotional offer will be treated as an extension of the agreement. Some restrictions may apply. See store for details.
$1199.99 and Higher: 6 months same as cash
$599.99-$1199.98: 120 days same as cash
$599.98 and Lower: 90 days same as cash