About Us
In 1956, Wilma and Clifton Elmo Cleek opened Cleek's Appliance and Food Service in a rented corner of Wilson's Wholesale Meat Company. Cleek's sold Amana freezers filled with frozen meat by arranging financing thru a local bank. In 1959, Cleek's moved to 1000 W. Broadway and began offering a full line of appliances and
televisions as well.
An avid Tiger football fan, Missouri 'Mo as he was known, in 1962 began predicting the scores of M.U. games with an ad in the paper as well as a large banner on his store's windows. An eternal optimist, 'Mo always picked the Tigers to win and with remarkable accuracy. His son, John, worked in the store from the time he was 15, cleaning, helping on deliveries, even selling. By the time he was 18, he was an accomplished salesman and knew he wanted to work in the family business. Father and son often sat up until midnight talking about business and life in general. Elmo Cleek only had 2 rules:
"1) never say anything you have to remember and 2) get bigger, get better, or get out."
After working 30-35 hours per week to pay for college, John graduated from M.U. in May, 1972 with a degree in business and became the manager at Cleek's Appliance. On August 15, 1973 Cleek's moved to a 6,000 sq. ft. remodeled grocery store at the corner of W. Worley and W. Boulevard and added a complete carpet showroom. Now known as Cleek's Appliance and Carpet, the future looked bright. Part of the game plan was for "Tiger" John to start making his predictions next to his dad's the following season. But tragically, on November 19, 1973 Elmo Cleek was killed in a small plane crash coming back from the Iowa State football game. Suddenly, at the age of 23, John had lost his father, his boss, and his best friend. Married, with a 2 ½ year old son, John knew he had to pull himself together and support his family including his mother and 12 year old sister. Relying on those late night sessions with his dad, John kept the business going and continued the tradition of predicting M.U. football games.
"Our Family Serving Your Family Since 1956."
In 1976 John added rent to own to the Cleek's offerings. In 1987, he decided to get out of retail and operate solely as Cleek's Rent-To-Own, with multiple locations. His son, Tiger John Jr. worked in the business during the summers while in high school and then part-time to help pay his own way thru M.U. graduating in December of 1993. By then, Cleek's had 3 stores with more on the horizon. Cleek's Rent-to-Own, now renamed Cleek's Home Furnishings, Rentals, and Sales now has 5 locations and is proud to be serving families in the Missouri community.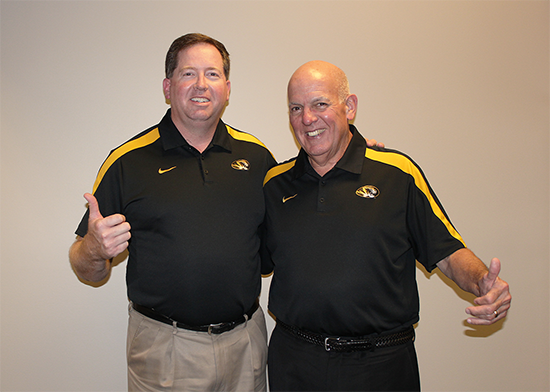 Tiger John served as president and owner of Cleek's Home Furnishings for the next 49 years, opening several more stores and establishing the rent-to-own part of the business in the late 1970s. Just like his father, John was a loving family-man and extreme football aficionado of the Missouri Tigers. He went on to co-found the Missouri Rental Dealer's Association (MDRA) and served for over 14 years as an influential leader on the national board of directors for the Association of Progressive Rental Organizations (APRO). For the last two years of his life, John lived with ALS and even raised $83,000 for the Walk To Defeat ALS. He leaves behind a legacy of true faith, generosity, and a deep dedication to the communities throughout his beloved home state of Missouri. His son, John Cleek Jr., is proud to continue serving in the family business.