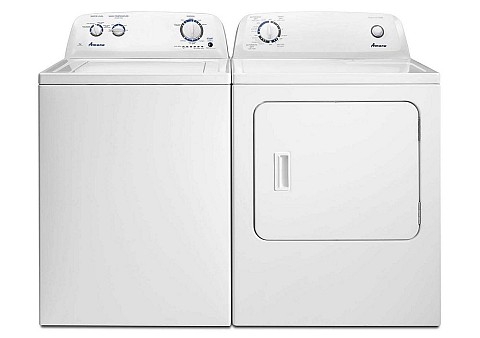 Overview
This 3.5 CuFt Amana? Top-Load Washer delivers a thorough, even clean with a Dual Action Agitator, which rolls clothes through the bottom of the wash basket. Its durable Porcelain Tub helps protect your favorites from snags, while the Deep Water Wash Option adds more water during the rinse cycle for added confidence. With 11 dryer cycles to choose from on the 6.5 CuFt White 29" Electric Dryer you can provide the optimal environment for drying all your clothes. Three drying levels allow you to select the right one for the job. The Cool Down cycle gives clothes time to cool off, which helps prevent wrinkles when clothes are left in the dryer after the cycle ends. And for those times when you can't unload right away, the Wrinkle Prevent option tumbles clothes intermittently to help stop wrinkles from forming.
Amana Washer/Dryer Pair
SKU: NTW4516FW/NED4655EW

Fast, Free Delivery
Buy It Now: $1299.99
Term: 24 Months | Monthly Rate: $89.99 | Total RTO* with Monthly Agreement: $2159.76
Term: 104 Weeks | Weekly Rate: $21.99 | Total RTO* with Weekly Agreement: $2286.96
$10 pays 1st week on agreement (with 2nd week paid) – maximum 2 agreements. Any amount of free time will be treated as an extension of the rental agreement. This is a rental purchase agreement that can be canceled at any time. Some restrictions may apply. See store for details.
Any difference owed in rent for the 1st month will be an extension of the rental agreement. See store for details.
Up to 6 months same as cash on any new agreement
$1199.99 and Higher:6 Months Same as Cash
$599.99-$1199.98:120 Days Same as Cash
$599.98 and Lower:90 Days Same as Cash