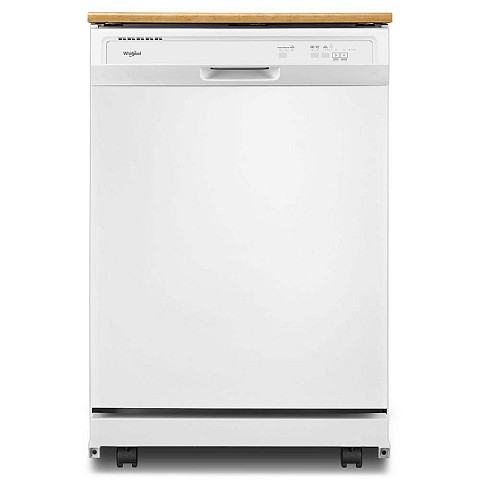 Overview
Get the perfect clean for your dishes with this heavy-duty dishwasher. Finish the job in half the time with the 1-hour wash cycle and rely on the soil sensor to adjust to the soil levels of your dishes for the most thorough clean.
Front electronic controls offer seamless cycle selection with just the light press of a button
Quiet operation at 64 dBA lets you run your dishwasher without disrupting your whole home
12 place setting capacity provides the room you need for your dishes
1-hour wash cycle cleans dishes in half the time, so your plates, pans and glasses are thoroughly cleaned up and taken care of in just an hour; compared to normal cycle with lightly soiled loads
Soil sensor determines how dirty dishes are and adjusts the normal cycle as needed to make sure dishes come out clean
Heavy cycle takes care of heavily soiled messes and other hard-to-clean dishes without the extra elbow grease by adding extra time to the cycle
High temperature wash option gives items like baby bottles, glassware or dishes a more thorough clean
Use a clean, dry dish straight from the dishwasher thanks to added heat for drying, plus, get the added benefit of an extended dry option, for optimal drying results, use this option with rinse aid
4-hour delay option lets you run the cycle when you want
Whirlpool White Dishwasher
SKU: WDP370PAHW

Fast, Free Delivery
Buy It Now: $1099.99
Term: 18 Months | Monthly Rate: $99.99 | Total RTO* with Monthly Agreement: $1799.82
Term: 78 Weeks | Weekly Rate: $24.99 | Total RTO* with Weekly Agreement: $1949.22
$10 pays 1st week on agreement (with 2nd week paid) – maximum 2 agreements. Any amount of free time will be treated as an extension of the rental agreement. This is a rental purchase agreement that can be canceled at any time. Some restrictions may apply. See store for details.
Any difference owed in rent for the 1st month will be an extension of the rental agreement. See store for details.
Up to 6 months same as cash on any new agreement
$1199.99 and Higher:6 Months Same as Cash
$599.99-$1199.98:120 Days Same as Cash
$599.98 and Lower:90 Days Same as Cash