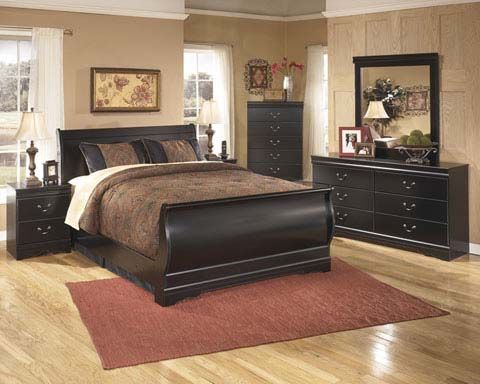 Overview
The Huey Vineyard bedroom group is the epitome of traditional decor. Louis Philippe-style moulding dates back to the mid-19th century when furnishings were lavish yet somewhat simple. Luxe finish adds a slightly modern touch.

Louis Philippe styling
Trendy replicated black paint
Huey Vineyard - Black Dresser-Mirror-Queen Bed-Nightstand
SKU: B128-31-36-77-74-98-92

Fast, Free Delivery
Buy It Now: $1099.99
Term: 18 Months | Monthly Rate: $89.99 | Total RTO* with Monthly Agreement: $1619.82
Term: 78 Weeks | Weekly Rate: $21.99 | Total RTO* with Weekly Agreement: $1715.22
$50 pays your first month on one rental agreement. Any free time is treated as an extension of the agreement. Some restrictions may apply. See store for details.
$1199.99 and Higher: 6 months same as cash
$599.99-$1199.98: 120 days same as cash
$599.98 and Lower: 90 days same as cash