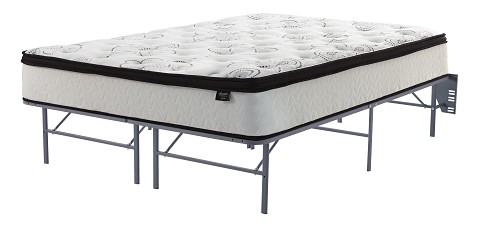 Overview
Why worry when you can chime? With the Sierra Sleep® Chime innerspring queen mattress, you have endless possibilities for restful sleep. Feel the support of a truly traditional coil mattress which contours to your body for a comforting feel. High density foam provides the firmness you love. Gel memory foam provides restorative support for your lower back. Hypoallergenic material is ideal for sufferers of allergies for ultimate undisturbed sleep–not to mention peace of mind. Plus, this mattress arrives in a box for quick and easy setup.
Behold the newest foundation of comfort. This queen mattress riser is an all-in-one support system that takes the place of an ordinary bed frame and box spring. The metal unit sets up quickly and without using any tools, creates a sleep haven with unwavering support. Included brackets attach the riser to a headboard. Even better: the clearance from frame to floor is incredibly spacious and ideal for under-bed storage.
Ashley Chime Queen 12" Hybrid Mattress/Metal Base Foundation/Cover
SKU: M69731-M91X32-R09394

Fast, Free Delivery
Buy It Now: $799.99
Term: 15 Months | Monthly Rate: $79.99 | Total RTO* with Monthly Agreement: $1199.85
Term: 65 Weeks | Weekly Rate: $19.99 | Total RTO* with Weekly Agreement: $1299.35
$50 pays your first month on one rental agreement. Any free time is treated as an extension of the agreement. Some restrictions may apply. See store for details.
$1199.99 and Higher: 6 months same as cash
$599.99-$1199.98: 120 days same as cash
$599.98 and Lower: 90 days same as cash