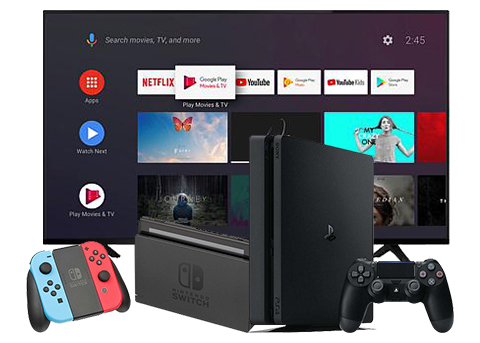 Overview
The Skyworth UC6200 TV now brings you High Dynamic Range (HDR) 10, so you can experience exceptional colors and details, better than ever before! With a quad-core processor that gives you blazing speed for apps and streaming, plus a quad-core GPU for gaming, it's also got Android TV built right in. Also with the amazing Google Assistant, Chromecast, Google Play Store, and so much more, you can watch all the content you love and play your favorite games, as you search and control with just the power of your voice!
The PlayStation 4 system provides dynamic, connected gaming, powerful graphics and speed, intelligent personalization, deeply integrated social capabilities, and innovative second-screen features. Combining unparalleled content, immersive gaming experiences, all of your favorite digital entertainment apps, and PlayStation exclusives, the PS4 system focuses on the gamers. PlayStation 4 was designed from the ground up to ensure that game creators can unleash their imaginations to develop the very best games and deliver new play experiences never before possible. With ultra-fast customized processors and high-performance unified system memory, PS4 is the home to games with rich, high-fidelity graphics and deeply immersive experiences that shatter expectations.
Show off your personality when playing favorite Switch video games with this neon Nintendo Joy-Con controller. The small size lets you cradle it in your hand for maximum control, and the ergonomically designed buttons and analog stick reduce fatigue. This Nintendo Joy-Con controller contains a 525 mAh rechargeable battery for hours of play
Home gaming system: At home the main unit rests in the Nintendo Switch dock, which connects the system to the TV and lets you play with family and friends in the comfort of your living room.
On-the-Go: Lift Nintendo Switch from the dock and instantly transition to handheld mode for on-the-go gaming. By sharing Joy-Con, players can go head-to-head while away from home.
32GB of internal storage: A portion of internal memory is reserved for use by the system. You can expand the capacity of Nintendo Switch by using microSDXC or microSDHC memory cards.
Motion Control: Each Joy-Con includes a gyroscope and accelerometer.
HD Rumble: Both Joy-Con controllers include advanced HD Rumble, which can provide compatible games with subtle vibrations that are much more realistic than before.
IR Motion Camera: Joy-Con (R) includes an IR Motion Camera that can detect the distance, shape and motion of nearby objects in specially designed games.
Skyworth 50" 4K Android Smart TV & Your Choice: Nintendo Switch or PS4 Slim Package
SKU: 50uc6200/ps4slim/ninswitch

Fast, Free Delivery
Buy It Now: $979.99
Term: 18 Months | Monthly Rate: $99.99 | Total RTO* with Monthly Agreement: $1799.82
Term: 78 Weeks | Weekly Rate: $24.99 | Total RTO* with Weekly Agreement: $1949.22
$25 gets you started and the remainder of the 1st month will be owed before merchandise is delivered. Any type of promotional offer will be treated as an extension of the agreement. Some restrictions may apply. See store for details.
$1199.99 and Higher: 6 months same as cash
$599.99-$1199.98: 120 days same as cash
$599.98 and Lower: 90 days same as cash