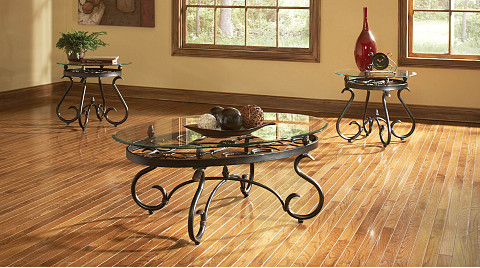 Overview
The intricately curved and scrolled lines of the Lola Coffee Table and End Table Set recall twining vines. This elegant, decorative trio features metal frames with a rich finish. Oval and round beveled glass tops measuring 8 mm thick provide the perfect finishing touch. Use these pieces to display art books, collectibles, small houseplants, family photographs, and other decorative accents. This set includes an oval coffee table and two matching round end tables.

8mm layon glass tops, decorative scroll work under glass with "s" shaped legs and an acorn finial
Powder-coat finish
Lola - Glass/Metal 3-PC Occasional Set
SKU: LL400T/BCEE

Fast, Free Delivery
Buy It Now: $549.99
Term: 18 Months | Monthly Rate: $49.99 | Total RTO* with Monthly Agreement: $899.82
Term: 78 Weeks | Weekly Rate: $11.99 | Total RTO* with Weekly Agreement: $935.22
$10 pays 1st week on agreement (with 2nd week paid) – maximum 2 agreements. Any amount of free time will be treated as an extension of the rental agreement. This is a rental purchase agreement that can be canceled at any time. Some restrictions may apply. See store for details.
Any difference owed in rent for the 1st month will be an extension of the rental agreement. See store for details.
Up to 6 months same as cash on any new agreement
$1199.99 and Higher:6 Months Same as Cash
$599.99-$1199.98:120 Days Same as Cash
$599.98 and Lower:90 Days Same as Cash