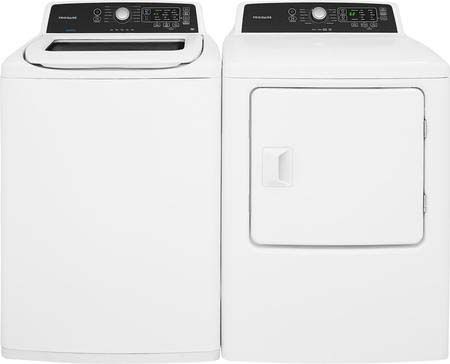 Overview
Frigidaire presents a top-load washer with a generous 4.1 CuFt capacity, a durable stainless steel drum and 12 different wash cycles to bring you outstanding laundry convenience. Wash cycles include Normal, Delicates, Hand Wash, Active Wear, Colors, Whites, Heavy Duty, Bulky, Quick Wash, Rinse & Spin, Drain & Spin and Tub Clean. For above and beyond clothing care, this washer features a bleach dispenser and fabric softener dispenser as well. Intuitive digital controls with a digital readout make selecting your cycle and wash options a breeze. Frigidaire's new electric dryer features a spacious, durable 6.7 CuFt stainless steel drum, allowing you to fit piles and piles of laundry in one load. And with ten different cycle selections, you can cater the dryer's performance to your specific laundry needs. Cycles include Normal, Delicates, Active Wear, Towels, Sanitize, Heavy Duty, Bulky, Quick Dry, Time Dry, and Air Fluff. And to eliminate the need for ironing, a special Wrinkle Release option helps to ensure your clothes leave the dryer wrinkle free and ready to be worn.
Frigidaire White 4.1 cu ft washer/6.7 cu ft dryer
SKU: FFTW4120SW/FFRE4120SW

Fast, Free Delivery
Buy It Now: $1949.99
Term: 24 Months | Monthly Rate: $139.99 | Total RTO* with Monthly Agreement: $3359.76
Term: 104 Weeks | Weekly Rate: $34.99 | Total RTO* with Weekly Agreement: $3638.96
$10 pays 1st week on agreement (with 2nd week paid) – maximum 2 agreements. Any amount of free time will be treated as an extension of the rental agreement. This is a rental purchase agreement that can be canceled at any time. Some restrictions may apply. See store for details.
Any difference owed in rent for the 1st month will be an extension of the rental agreement. See store for details.
Up to 6 months same as cash on any new agreement
$1199.99 and Higher:6 Months Same as Cash
$599.99-$1199.98:120 Days Same as Cash
$599.98 and Lower:90 Days Same as Cash