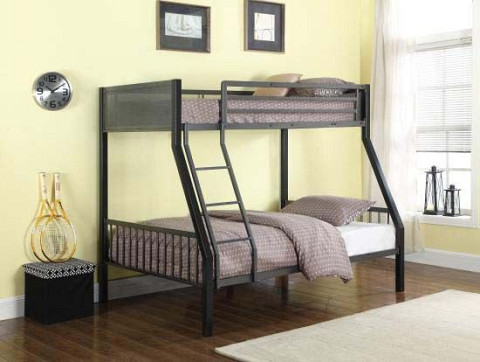 Overview
The perfect marriage of modern and traditional design, this clean bunk bed looks great with a variety of design motifs. Constructed of metal, the smooth lines boast a black and gunmetal finish. The built-in ladder and all-around guard rail create a safe feeling and mirror the headboard and footboard in the lower bunk. With no Bunkie board requirement, the sleek silhouette helps to streamline with its elongated legs. The high frame offers ample storage space below, ideal for a shared space.
Mattresses sold separately.
Black/Gunmetal Twin/Full Bunkbed
SKU: 460391

Fast, Free Delivery
Buy It Now: $799.99
Term: 18 Months | Monthly Rate: $69.99 | Total RTO* with Monthly Agreement: $1259.82
Term: 78 Weeks | Weekly Rate: $16.99 | Total RTO* with Weekly Agreement: $1325.22
$10 pays 1st week on agreement (with 2nd week paid) – maximum 2 agreements. Any amount of free time will be treated as an extension of the rental agreement. This is a rental purchase agreement that can be canceled at any time. Some restrictions may apply. See store for details.
Any difference owed in rent for the 1st month will be an extension of the rental agreement. See store for details.
Up to 6 months same as cash on any new agreement
$1199.99 and Higher:6 Months Same as Cash
$599.99-$1199.98:120 Days Same as Cash
$599.98 and Lower:90 Days Same as Cash