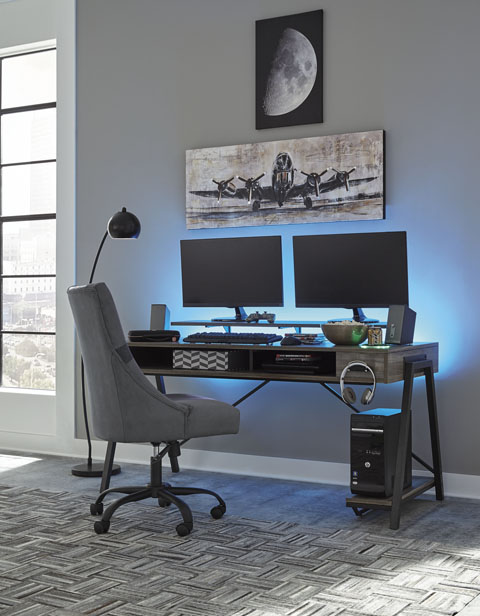 Overview
Elevate your style and up your game with this ultra-cool gaming desk. Clean and contemporary, this mixed media designer desk includes a metal frame in silvertone finish, topped with an engineered wood surface with replicated wood grain. Setting you up for success: a large open raceway for power cord management, desk top monitor shelf and an LED back light with multiple color options for an enhanced gaming experience. Along with a PC stand for easy access, this gaming desk features a custom designed headset hanger and a built-in electric can cooler with USB plug-in.
Additional items available for purchase (sold separately):
H700-02 Two-tone Swivel Gaming Chair (pictured)


Barolli - Gunmetal Gaming Desk w/Monitor Stand & Headset Hanger
SKU: H700-28

Fast, Free Delivery
Buy It Now: $849.99
Term: 18 Months | Monthly Rate: $69.99 | Total RTO* with Monthly Agreement: $1259.82
Term: 78 Weeks | Weekly Rate: $16.99 | Total RTO* with Weekly Agreement: $1325.22
$10 pays 1st week on agreement (with 2nd week paid) – maximum 2 agreements. Any amount of free time will be treated as an extension of the rental agreement. This is a rental purchase agreement that can be canceled at any time. Some restrictions may apply. See store for details.
Any difference owed in rent for the 1st month will be an extension of the rental agreement. See store for details.
Up to 6 months same as cash on any new agreement
$1199.99 and Higher:6 Months Same as Cash
$599.99-$1199.98:120 Days Same as Cash
$599.98 and Lower:90 Days Same as Cash