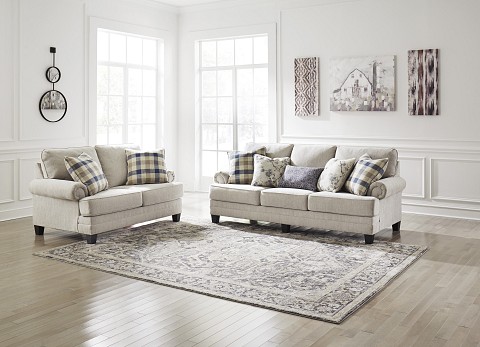 Overview
If you yearn for furniture that can transition seamlessly—whether your space is classic, coastal chic or contemporary—rest assured this sofa is an inspired choice. Sporting a textured weave, the chenille-feel upholstery in a light linen tone is a pleasure for the senses. The eclectic mix of plaid and floral patterned accent pillows is so expected—yet such a welcome surprise.

Meggett Sofa/Love Linen
SKU: 1950438/35

Fast, Free Delivery
Buy It Now: $1599.99
Term: 18 Months | Monthly Rate: $139.99 | Total RTO* with Monthly Agreement: $2519.82
Term: 78 Weeks | Weekly Rate: $34.99 | Total RTO* with Weekly Agreement: $2729.22
$50 pays your first month towards the rental agreement. Any difference owed in rent for the 1st month will be an extension of the rental agreement. See store for details.
6 months same as cash on any new agreement