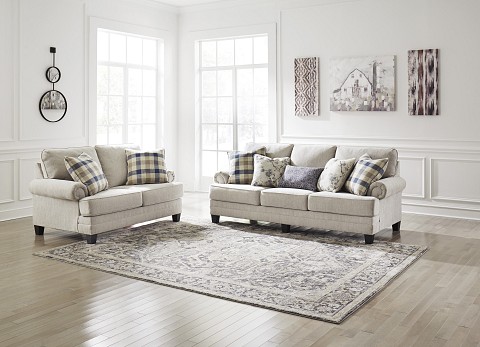 Overview
If you yearn for furniture that can transition seamlessly—whether your space is classic, coastal chic or contemporary—rest assured this sofa is an inspired choice. Sporting a textured weave, the chenille-feel upholstery in a light linen tone is a pleasure for the senses. The eclectic mix of plaid and floral patterned accent pillows is so expected—yet such a welcome surprise.

Meggett Sofa/Love Linen
SKU: 1950438/35

Fast, Free Delivery
Buy It Now: $1399.99
Term: 18 Months | Monthly Rate: $119.99 | Total RTO* with Monthly Agreement: $2159.82
Term: 78 Weeks | Weekly Rate: $29.99 | Total RTO* with Weekly Agreement: $2339.22
$25 gets you started and the remainder of the 1st month will be owed before merchandise is delivered. Any type of promotional offer will be treated as an extension of the agreement. Some restrictions may apply. See store for details.
$1199.99 and Higher: 6 months same as cash
$599.99-$1199.98: 120 days same as cash
$599.98 and Lower: 90 days same as cash